RBM Productions in Association with Westerby Entertainment present Together in September in support of Big Brothers Big Sisters. Celebrate at a drive in concert at the Lindsay Fairgrounds.
Featuring:
Two for the Show
Practically Hip
Canada Rockz
The Steel Horse Gypsies
Gates open at 5:30 – show starts at 7:00pm
Our community partners include:
Commonwell Insurance, Westjet Cares for Kids, City of Kawartha Lakes, Westerby Entertainment, A and L Investments Limited, Kawartha Computer Clinic and Kawartha Business Equipment.
COVID-19 Precautions in Effect!
Come out and support a good cause and enjoy some great entertainment.
Tickets available at the office or online at www.biggertogetherlindsay.org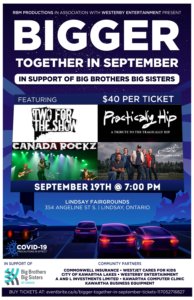 We all know that everyone has been waiting patiently for the BIG Raffle Draw of the West Jet Voucher. We held the draw at noon today and the video reveals the lucky winner. Congratulations to our lucky winner and thank you to all those that purchased tickets to support our local mentoring programs. Thank you to Big Brothers Big Sisters of Canada and WestJet for the voucher and Boiling Over's Coffee Vault for helping us sell tickets. A special thanks to Danielle Sparkes, our summer activity coordinator for her hard work selling tickets throughout our area at place such as Classics on Kent (LDBIA), Lindsay Farmer's Market, Fenelon's Farmer's Market, Bobcaygeons Farmer's Market and Second Time Around in Minden.
Kristy Polito is the lucky winner!  Here she is picking up her prize. 
Thank you again to West Jet Cares for Kids and all who puchased tickets!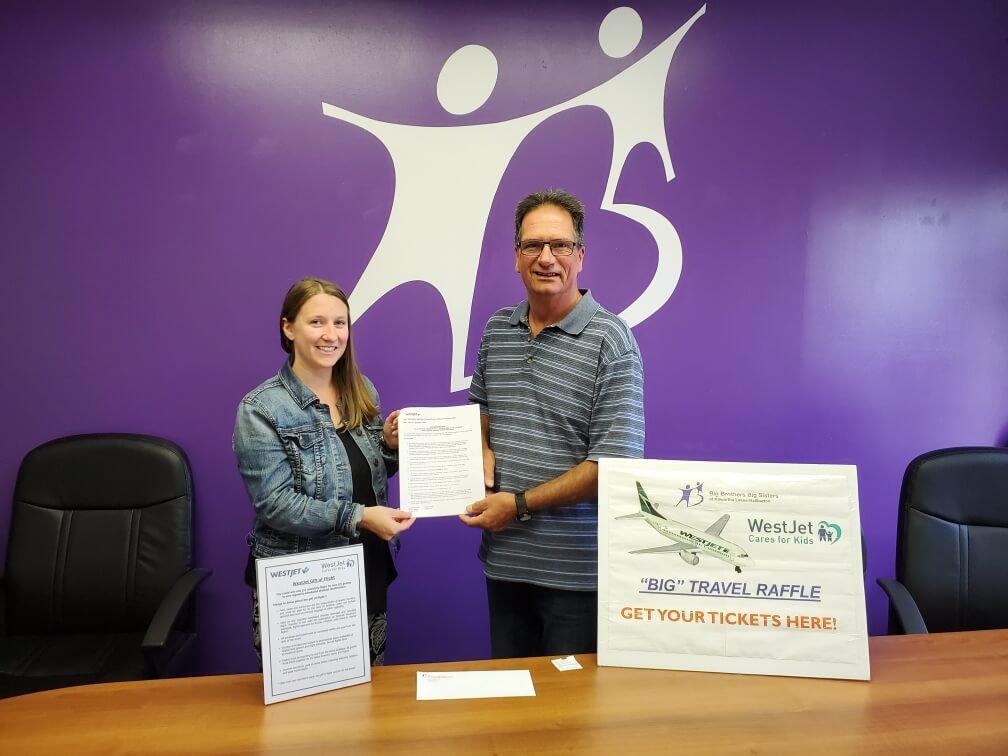 The 2019 BIG Dinner Auction was another success this year thanks to the support of Economy Wheels, Kevin Barker Auctioneer, Westerby Entertainment, BOB FM and all the merchants that donated items for the event.  Special thanks to all those who attended to enjoy the evening, the meal from The Grand, while raising funds to support mentoring programs in our community.
Stay tuned for next years event!
 Big Brothers Big Sisters Shined in

Everything Purple Through 
Bowl for Kids Sake 2019
Big Brothers Big Sisters of Kawartha Lakes-Haliburton wrapped up another annual Bowl for Kids Sake.  The events were held on Saturday February 23th at Strike Point Bowling Centre in Lindsay and Saturday March 2rd at Fast Lane in Minden.  Participants enjoyed dressing to
the theme of Everything Purple and the best dressed were awarded with a prize for their efforts.
The final amount raised was $28,000.  The participants that raised the most pledges were awarded
prizes for their amazing efforts to raise the most money. The top individual was Daryl Moore from Minden Lions Club $1,000, second highest individual was James Mulhern from Lindsay & District Labour Council $790.00 and third highest was Robert Morrin from the Bahai Group $560.00. These three participants will win one of three prizes from Boston Pizza ($150 Gift Certificate), Lindsay Krown Rust Control Centre (car application) and Cardinal Coach Tours ($150 Gift Certificate). Other notable individuals were Tamara Grisdale ($535), Thomas deBoer ($520), Jamie Cowell ($380.75) and Meredith Svetec ($350) who will each receive a large pizza from Square Boys Pizza. The top team was the Lindsay & District Labour Council raising $1,365.00 who were awarded a table for 8 at the organizations upcoming BIG Dinner/Auction.
The funds raised through this event remain in our community to support one to one mentoring programs that assist children with reaching their full potential.  The Social Return on Investment is $18 for every dollar raised through this event.
Big Brothers Big Sisters would like to thank all those that participated in this year's event, whether it was the bowlers, lane sponsors, prize sponsors, volunteers or the owners of the bowling lanes.  Together we are assisting children and youth with becoming contributing community members.  Children and youth who have had the benefit of a friendship with a caring mentor are more likely to complete a post secondary education, find higher paying employment, donate back to the community at a higher rate and volunteer their time to their community; realizing the social return on investment into mentoring programs.
Those that would like to consider mentoring can contact the organization at 705-324-6800 or visit www.bigbrothersbigsisters.info .
See the fun from our 2019 Event!
Wing Fest 2019 was another BIG success. We would like to thank all those that attended, the participating restaurants, our sponsors and the volunteers for their continued support of this important fundraising event! Yes, we have a friendly competition among the restaurants, but the real winners are the children who can benefit from the mentoring programs that this event supports! Congratulations to the winner of the 65″ LG Smart TV from The Flat Panel Shoppe!
Click here to see photo's of this year's event!